Limix are unique, all-natural, antimicrobial wall and floor tiles based on Japanese Shikkui technology and designed to create a health-beneficial environment for indoors. Ideal for residential spaces where people spend a lot of time (living room, bedroom), kids rooms, hospitals and other areas where healthy air is a priority.
Combined with a Shikkui finish, Limix offers a whole surface solution for any interior space.
How Shikkui and Limix help create healthier indoor environment
Harmful pathogens (bacteria, viruses, mold spores), VOC gases, bad smells and house dust continuously circulate in any indoor air, originating from a variety of sources: dirt, skin cells, furniture, paint, wallpaper, pets, and any objects we use indoors. 
The natural antimicrobial feature of Shikkui and Limix disinfects the air from microbes, and its high porosity not only helps bring indoor humidity to a comfortable level of 40-60% (recommended by ASHRAE), but also in combination with photocatalyst targets VOC gases breaking them down into harmless compounds. In addition, Shikkui surface being anti-static prevents dust accumulation, thus serving as anti-allergic.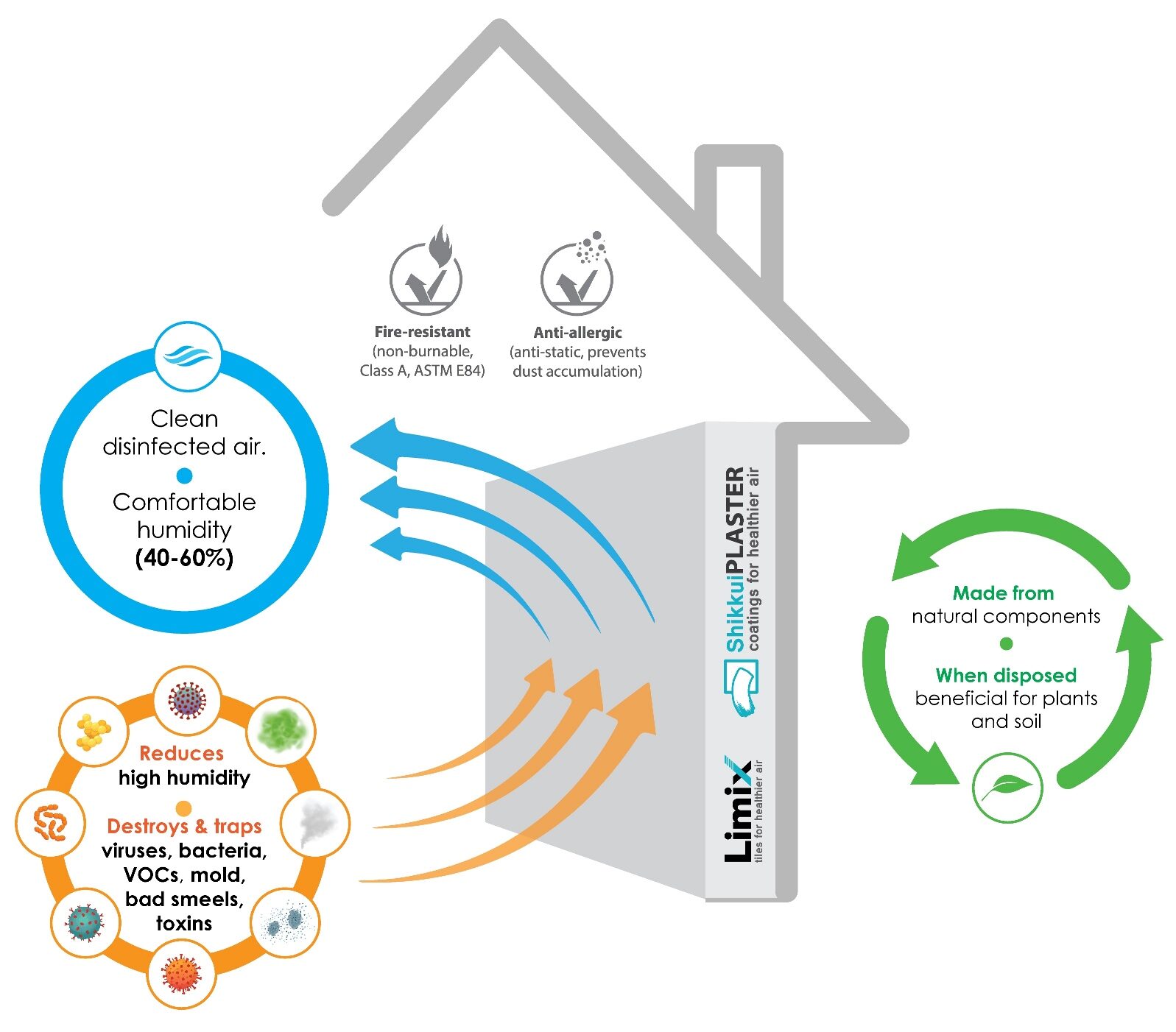 Limix tiles are made using a proprietary technology that "geomimics" long term geological processes using only extremely high pressure (4,000 tons per tile) without any high-temperature firing process of ceramic tiles or VOC-emitting synthetic binders used in artificial tiles. This allows for highly functional tiles with extremely low carbon footprint that are naturally antimicrobial, contain air-cleaning and highly humidity regulating components.
Up to 50% is recycled / upcycled customized content in powder form (e.g. eggshells, humidity-regulating diatomaceous earth, coffee, cocoa).
How Limix Differs From Other Tiles
Verified by third parties
Described Shikkui and Limix performance has been verified by independent tests according to ISO, JIS and ASTM standards.